How to submit samples for a-BHRA / HR-test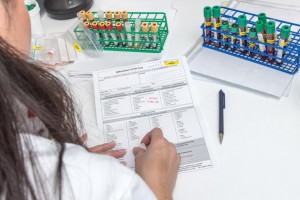 1. Print out the requisition form and fill in the requested information
2. Send it together with the blood sample and any patient-supplied sample materials* to:
RefLab ApS
Ole Maaløes Vej 3
2200 Copenhagen N
Denmark
*Patient-supplied sample materials can be
samples from the environment of the patient
medical agents taken by the patient, which are not on our list of testable drugs in stock. A list of these drugs can be found on our frontpage.
special food items not part of our test panel.
Please note, RefLab does NOT accept or test for cytotoxic/chemotherapeutic agents or other toxic agents.
Sample preparation
Sample has to be heparine whole blood (Green heparine tube without gel).
For plate analysing, 4mL heparine whole blood is needed.
For single allergens/patient material 1mL heparine whole blood is needed per allergen/material.
The blood sample is stored at ambient room temperature. Do not refrigerate. The sample is sent the same day for analysis (durability 24-36 hours from blood drawing).
Sample shipment
The samples should be shipped during a work week so they are received by RefLab no later than Friday 2pm.
The sample and requisition form have to be sent in an envelope or transport container for biological samples.
The test result will be returned to the requester within 3-10 business days after receipt of sample.